Skip to Content
Check Out Our Wildwood, NJ Golf Cart Rental and Sales Today
At Wildwood Golf Cart Rental and Sales, we have worked hard to develop a reputation for providing high-quality golf cart rentals to Wildwood, NJ residents and vacationers. We specialize in renting carts to those who want to cruise the Jersey shore in style. We can promise there is no more relaxing experience than driving around the streets in an open-air golf cart. We can accommodate up to six people in our carts to make things even better, making us the perfect destination for families on a much-needed break from the grind.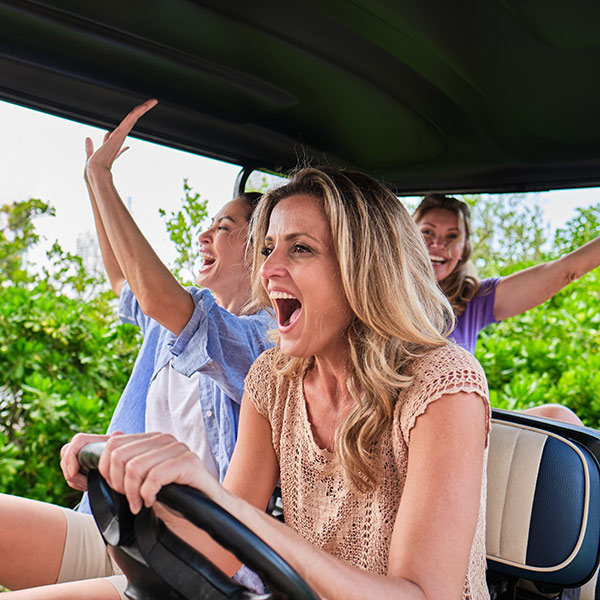 What to Expect When You Rent From Wildwood Golf Cart Rental and Sales
We pride ourselves on renting golf carts that deliver on our promise of endless luxury. How do we do it? By purchasing carts with Bluetooth speakers for rousing trips down the street. We accomplish our goals by providing LED-lit golf carts with reverse cameras, hydraulic disc brakes, and a place to charge your phone. From practicality to convenience, we've got you covered.
Fun for the Whole Family
We rent golf carts made for everyone. Whether you plan on entertaining friends or family, our carts get the job done.
Convenience
We provide delivery services, ensuring you do not have to go out of your way to get your golf cart.
Plenty of Features
We don't rent boring, feature-less golf carts. Instead, our carts are filled to the brim with special features and comfort-inducing amenities.
Environmental-Friendliness
We care about the health of the Jersey shore. Our golf carts are fully electric, minimizing emissions and lowering carbon footprints.
Enjoy Our Street-Legal Golf Carts Today
Our goal is to help beachgoers get around easier. It's no secret the Jersey shore is a popular destination for vacationers. Renting a golf cart is a fantastic way to get around without a headache. Our golf carts are 100 percent street legal, enabling you to travel the roads between your beach house and the beautiful sandy shores.
Contact Us Today for More Information