Skip to Content
High-Quality Golf Cart Sales in Wildwood, NJ
Wildwood Golf Cart Rental and Sales is passionate about improving the beach-going experience for all residents of Wildwood, NJ. Our golf cart sales division is ready to provide you with reliable, high-quality, and customized golf carts that are 100 percent street legal. Living by the beach offers endless opportunities and pleasures. Why not take things a step further and buy your golf cart? Soon, you'll jet from your beach house to the shores in comfort and style.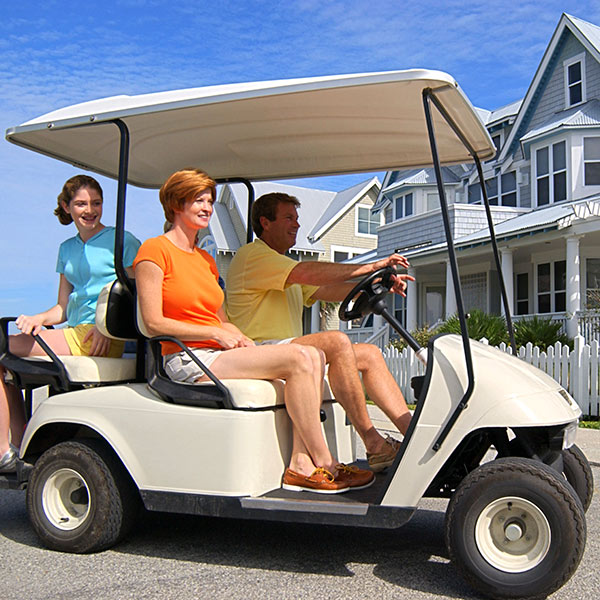 We Strive to Hold to Our Values
We want you to feel comfortable working with our team on your golf cart needs. Whether you've been renting for a while or just moved to the area, we can help.
Quality
Nobody wants an unreliable golf cart that breaks down on the way to the beach. We use high-quality parts and source our golf carts from reliable brands. Our dedication to quality is a significant reason behind our success.
Price
We are committed to providing our customers with a superior experience. One of the ways we do so is by offering our golf carts at competitive rates. Simply put, you will get top value for your dollar, ensuring you have a reliable cart for years.
Transportation
You won't have to travel to our location to pick up your golf cart. Instead, we'll deliver it to you. We also provide pick-up service. That comes in handy when you require maintenance or repairs to your golf cart
Service
If your golf cart ever breaks, you can count on our team to provide the repairs needed to get it back into working order. We also offer maintenance, which you can use to ensure no problems develop during regular use.
Customization
We offer a wide range of customization options, ranging from Bluetooth speakers to LED lights. We can also customize your rims and get your brakes exactly how you like them. The possibilities are endless.
Comfort
Most importantly, our golf carts are comfortable. We specialize in luxury, and we deliver on our promise of a luxurious experience each time you hit the road.
Enjoy High-Quality Carts in a Low-Pressure Environment
We offer great golf carts at outstanding prices, but we also provide our customers with a relaxing and low-pressure environment. Our sales team doesn't push you into a purchase. Instead, we enthusiastically tell you about our golf carts and explain how they might enrich your life. Even if you're just looking around, you can count on an outstanding experience
Contact Us Today for More Information